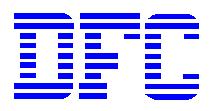 _________________________________________________________________________________________________________________
Dibrell Financial Corporation
P. O. Box 797625
Dallas, Texas 75379-7625
972-733-0357
972-733-0346 (FAX)
Dibrell Financial Corporation specializes in financial insurance systems consulting for credit life and health, collateral protection and warranty. DFC offers a wide variety of information technology advisory services, including software evaluation, systems design, programming and documentation review. Feasibility studies, data center analysis, work flow for both automated and manual systems and procedures, hardware and software evaluation and selection can be provided on a consulting or retainer basis.
Dibrell Financial Corporation provides in-depth knowledge of software packages and the I. T. needs in several vertical insurance industry groups. From both a software vendor, insurance agency and insurance company viewpoint, DFC can give the user access to a reservoir of knowledge that will exceed that of a single user or I. T. Manager.
Dibrell Financial Corporation is independent, reliable and dependable. With integrity beyond reproach, DFC allows the corporate manager the ability to evaluate his operations from the outside without committing to a single long term solution. Making insurance systems and people more productive is the goal of Dibrell Financial Corporation.
Links:
for more information contact:
_________________________________________________________________________________________________________________
Visitors to this site:
Last update November 16, 2005